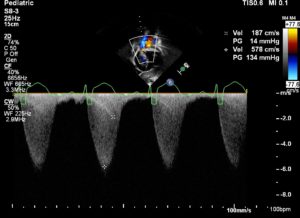 Heart is having two big arteries named as pulmonary artery which goes to both lungs. This vessel has a valve.
Narrowing or stenosis can occur at any level either at valve, or below or above the valve; known as valvar, subvalvar or supravalar pulmonary stenosis respectively.
Supravalvular pulmonary stenosis can be in the form of hourglass shape or funnel shaped type of obstruction.
Subvalvular pulmonary stenosis is most commonly seen in Tetralogy of Fallot, a cyanotic congenital heart disease due to deviation of conal septum.
In pediatric patients, obstruction commonly occurs at the level of valve itself. Valve can be of normal shape or it can be thickened and deformed (dysplastic valve).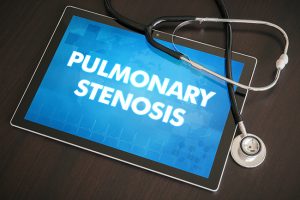 Peripheral variety of pulmonary stenosis most commonly occurs with an infection in pregnancy known as maternal Rubella syndrome.
Clinical Presentation
It depends that how much is the severe narrowing/obstruction at any level.
In mild form, child is no having any symptoms. It comes into notice by a pediatrician on routine examination of the child by noticing a murmur on hearing heart sounds.
In severe stenosis, child generally come with easy tiredness, pain in chest, fainting or syncopal attacks. With the onset of right heart failure, child may have difficult breathing.
Diagnosis of PS
It can be suspected clinically but confirmed by doing ultrasound of the heart (child Echocardiography).
Pulmonary Stenosis Treatment
Management of this issue depends on narrowing severity. 
In severe narrowing/obstruction, child needs urgent treatment.
Child needs follow-up at regular intervals in cases of mild-moderate obstruction
Valvular variety of PS is treated by using a balloon
For detailed procedure, kindly refer to intervention section of balloon dilatation of pulmonary valve in "www.childrenheartcare.com".

Valvular Pulmonary Stenosis