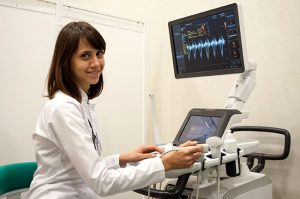 Transthoracic echocardiography (TTE) is a non-invasive modality for diagnosing various congenital heart diseases. It is done from chest. It can diagnose almost 99% of congenital heart diseases. In few cases, when it is difficult to diagnose heart diseases, CT or MRI can be planned to fulfill this gap. We do 2D, 3D and 4D echocardiography along with color flow mapping, doppler including tissue Doppler echocardiography.
These will offer special evaluation of children with cardiac functional abnormality and detailed evaluation of the abnormal anatomy especially valves and intra-operative evaluation by TEE.
Sometimes, child may need sedation in the form of oral medicine that usually takes approx. 30 minutes for its effect and effect of medicine lasts usually for 1-2 hours.
For Treatment of Pediatric Echocardiography in Delhi, please consult with Dr Gaurav Agrawal - Child Heart Specialist. Fill this form (https://childrenheartcare.com/contact/) or Call for Appointment: +91-9971928291, +91-11-30403040, 47111101-02