Dr. Gaurav Agrawal - India's Leading child heart specialist in Delhi-NCR
FNB (Pediatric Cardiology), MD (Pediatrics), MBBS, MIAP
Consultant
Pediatric Cardiology
BLK Super Specialty Hospital
Formerly
Consultant in Pediatric Cardiology atFortis Escorts Heart Institute and Research Centre, Okhla, New Delhi.
Senior registrar and fellow in Pediatric cardiology at Apollo Hospital, Hyderabad.
OPD Timings
BLK Super Specialty Hospital, Delhi
OPD 3
Mon - Sat: 10AM - 3PM
Dr Gaurav Agrawal is a Pediatric Cardiologist (Child and Fetal heart Specialist).
Dr Agrawal is a pediatrician who has specialized training in the treatment of various child heart related problems (neonates to 18 years of age).
He is also having a vast experience in fetal echocardiography.
He is one of the very few pediatricians in India who practices pediatric cardiology exclusively.
Cardiac problems in children are common in children, sometimes life threating and often not diagnosed properly. Early diagnosis and timely treatment is very important.
Areas of specific interest include child echocardiography including fetal echocardiography, diagnostic and therapeutic cardiac catheterization (pediatric cardiac holes closure by device, opening of obstructed cardiac valves by balloons etc).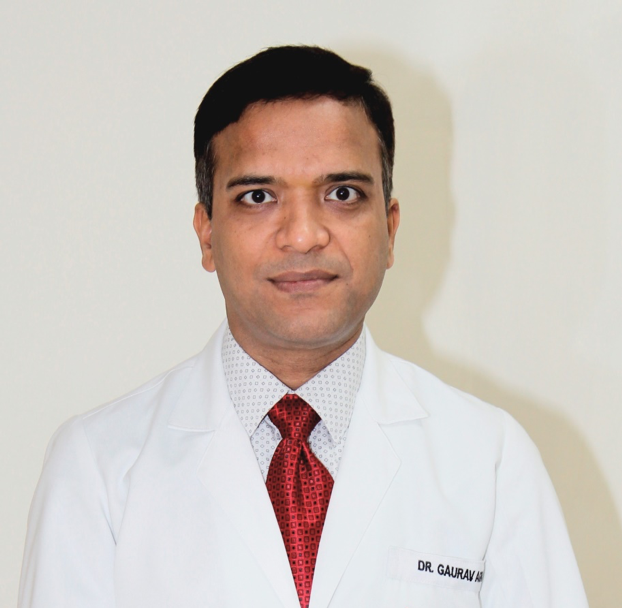 "Fellowship in Pediatric Cardiology'' (FNB) from prestigious Apollo Hospital, Hyderabad, India in 2015.
MD Pediatrics in 2008, SN Medical college, Agra, UP.
MBBS in 2004, LLRM Medical College, Meerut, UP.
Post MD Senior Registrar, Department of Pediatrics, MB Hospital, Delhi for 1 year.
Senior Registrar and Fellow in Pediatric Cardiology in Apollo Hospital, Hyderabad for 2 years.
Consultant in Pediatric Cardiology at Fortis Escorts Heart Institute and Research Centre, Okhla, New Delhi from 2015-2016.
Currently, In-charge division of Pediatric Cardiology at the BL Kapur Super Specialty Hospital, Pusa Road, New Delhi.
He was actively involved in teaching of post graduate (MD) students at SNMC, Agra as well as fellows of pediatric cardiology at Fortis Escorts Heart Institute and Research Centre, okhla road, New Delhi. He also has various publications in peer-reviewed indexed journals.
He is managing the Pediatric cardiac clinic at BL Kapur Super Specialty Hospital and performing pediatric echocardiography, fetal echocardiography. He is also performing various pediatric cardiac catheterization diagnostic and therapeutic interventions, e.g. Device closure of ASD, VSD, PDA, RSOV, coronary-cameral fistula; Ballooning of aortic and pulmonary valves in severe stenosis, Balloon valvuloplasty of coarctation of aorta, stenting of coarctation of aorta and pulmonary arteries; PDA or interatrial septum stenting in sick patients; Balloon atrial septostomy in sick neonates. He is actively involved in various pediatric cardiac surgeries that Surgery team is performing in BLK hospital on daily basis.
Memberships & Registration
Life Member of Pediatric Cardiac Society of India.
Life Member of Indian Academy of Pediatrics.
Life Member of National Neonatology Forum (NNF).
Registered with Delhi Medical Council No. DMC- R/22923
Who is a Pediatric Cardiologist?
A pediatric cardiologist is a doctor who specializes in diagnosing and treating pediatric cardiac problems.
A pediatric cardiologist or child heart specialist cares for infants, children and adolescents who have heart related problems.
Dr Gaurav Agrawal is a pediatrician or a child specialist and specializes in the management of heart problems of neonates, infants and children.
Dr Agrawal has received special training in pediatric and fetal cardiology.
He has received training into pediatric and fetal echocardiography, pediatric cardiac cath lab procedures  via angiography      
Dr Agrawal is also trained in epicardial echocardiography (echocardiography in operation theatre when chest is open).
Dr Agrawal exclusives practices pediatric and fetal cardiology.
When do you need to see a Pediatric Heart Specialist?
If your child gets recurrent cough and cold?
If your child has history of breathing difficulty while feeding, history of frequent pneumonia leading to hospitalization?
If your child is having poor weight pain?
If your child has history of bluish discoloration of lips, fingers etc?
If your child has history of easy tiredness/fatigue, loss of consciousness (syncope), chest pain?
If your child is having frequent sensation of own heart beats (Palpitation) or Irregular heartbeats?
If your child is having swelling of body with signs of respiratory distress (heart failure)?
If there is abnormal heart sounds or heart murmurs on routine examination by your paediatrician?
If your child is having frequent leg pains (claudication)